Introducing the next dimension in plasma and oxy-fuel plate cutting
The V304 has an entirely new design in which state-of-the-art technologies are incorporated. The latest Voortman developments and innovations are also applied to the design of the V304. Because of these efficient techniques, higher production speed and quality are achieved.
The V304, capable of multi-torch oxy-fuel cutting, plasma straight cutting and plasma 3D beveling, is one of the successors of the VCS Compact, the VCS Thermo and the VCS Multi.
HIGH END CUTTING MACHINE
The machine achieves high outputs and is perfect for repeating and simultaneous cutting jobs and layout marking. A maximum of 6 oxy-fuel torches, 2 plasma torches or a combination of all can be added to the strong steel gantry. Both the oxy-fuel triple bevel torch as well as the 3D plasma torch is able to perform weld preparations and produce X, Y, K or V cuts to simplify further production steps. A strip cutting unit with three oxy-fuel torches can be used for cutting strips out of raw plates. For fast marking steel plates a stepless rotatable inkjet marking unit can be installed.
The new V304 will be available with True Hole Technology by Hypertherm® and Contour Cut from Kjellberg® to create better hole qualities compared to the conventional cutting methods. Also, various nesting programs are offered with the machine, from simple to advanced nesting software, to optimize time and material usage.
NEW DEVELOPMENTS AND FEATURES
The V304 is one of the new developed types in the Voortman plate processing range and has, next to a completely new design, the following new features:
High precision positioning with X-rail
The V304 is equipped with high precision gantry movement by means of double synchronous driven servo drives in combination with double linear guides and helical rack and pinion system. The linear guides are covered from dust and dirt by a rubber band.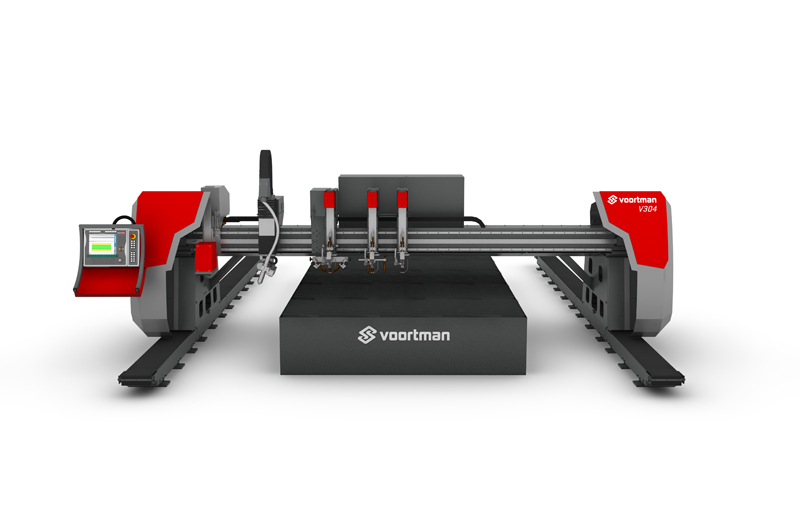 High precision Y-movement
The rugged build steel bridge is equipped with helical rack and pinion of which the positive effect is a higher accuracy, more precision and less noise in the Y-direction.
Smooth control
The new 3D plasma bevel unit is controlled by five axes. The servo motors on the five axes are from the same supplier thus increasing synergy and collaboration and ensuring a high quality cut.
Strong steel bridge
The rugged build steel bridge for optimum stability is equipped with linear guides to allow for thermal expansion. Heat shield caps are installed underneath the bridge to prevent unnecessary wear.
Filter unit
The new Kemper® extraction unit is equipped with high performance filters which are the most sophisticated and efficient solution for filtering dust and fumes. It is capable of filtering more than 99% of all particles smaller than 0,4 μm, which enables recirculation of the filtered air back into the workshop.
Schweissen und Schneiden
16-21/9/2013
Stand C103, Hall 6